We help auto repair shops win on the web. Our websites may not be perfect, but they are less bad than the other guy's, and we can prove it.
Not All
Web-Developers

Create Equally
The
mechanic.media

difference
We build our websites centered on one thing: Your customers.
The difference between winning and losing on the web is not in razzle-dazzle special effects — it's in practical usability.
Our hand-coded websites set us apart from the competition. They may not be perfect — but they are better than the other guys.
Performance

Search engines are in the business of giving their users what they want, and the numbers are in: Internet users prefer speed, and even more so on mobile, where the majority of search takes place.

We put top-priority emphasis on performance, and test all of our work using the industry performance benchmark WebPageTest.org.

Craftsmanship

We take pride in our work, and build everything by hand. We don't use Wordpress and similar dated platforms that pile on excess baggage and slow things down. Do you want a web-developer, or a Wordpress developer? If a website is what you want, a web-developer is what you'll need.

Precision

Our greatest strength is our fine-tuned attention to detail that is driven by our dedication to Web Standards. This assures that your content will be accessible to as wide an audience as possible — including especially your most important audience: robots like Google, Bing, and Siri.
FREE e-Handbook
Do you feel like you're at the mercy of web-developers who always talk in code?
That ends now. Get up to speed in 20 minutes with our FREE e-Handbook, and be firmly in the driver's seat of your auto repair shop's web project.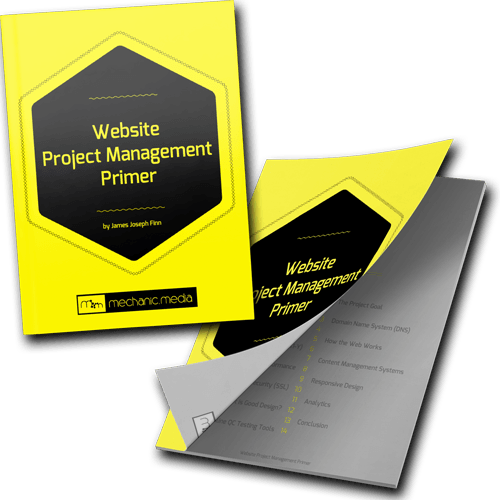 Learn to decode techie lingo so you can effectively communicate with your web-developer.
Learn what's vital, and what's a waste of time and money.
Take confident command of your web project to make sure it stays on track and on goal.
20 minutes – read it over your morning coffee.
Who We Are
It's not 'we', actually ... it's mostly just me, but I wouldn't be here without the support of my loving family.
My name is James. I'm a web-developer and entrepreneur, and I built this business after I noticed there was a need in the marketplace.
I believe that small, independent auto-repair shops should have websites that compete with the big guys for a price that doesn't break the bank.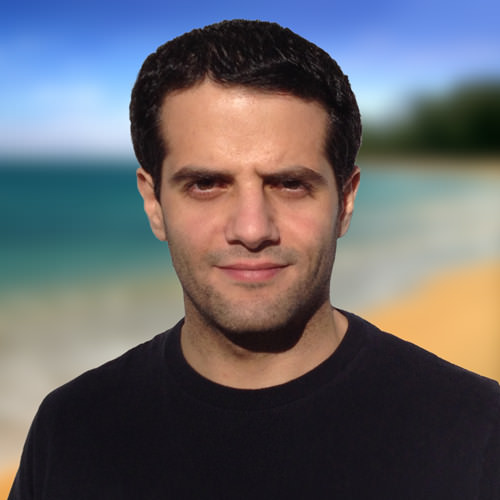 Comprehensive Service,
Simple Pricing
ZERO RISK
No contract • No hidden fees
30 day money back guarantee
Initial Set-up: $799
one
time
Domain registration:

It all starts with a name.

Custom design:

You'll be fitted with a sweet, custom design that's as cool as your shop.

Mobile-optimized:

The majority of searches are conducted on a mobile device. Optimizing for mobile means optimizing for speed, and that's our specialty.

Basic Local SEO: A nice website is useless if nobody can find it. If you haven't already done so, we'll register your shop with Google My-Business, Bing Places, Yext / Yahoo, and Yelp. We'll also embed all the necessary microdata (fancy stuff that makes search engines happy).
Read this case study to learn how we boosted Larry's SEO.
Create and compile content:

Custom authored content, including service descriptions & staff bios.

Customer reviews:

We'll interview your most high profile clients, and put their endorsement on your site.

Social media integration: The search engines monitor social signals as a credibility indicator. We'll connect your site to your social media accounts by using fancy stuff like Open Graph Protocol (Facebook), & Twitter Cards API.
Map & Directions:

Guidance to your garage doors at the push of a button.

Instant Chat:

Customers in urgent need of a repair will be able to communicate with you instantly.

Personalized email addresses:

As many as you need.

One month of maintenance included
Maintenance: $29
per
month
First month is on us
Tender-loving-care: We don't do once and done builds. We'll keep your code up-to-date and on the cutting edge. You'll never need another website. Guaranteed.
Managed hosting: We'll send your site to your visitors only over the best & fastest networks: Amazon Web Services & Cloudflare. Every website needs a home, and this is where yours will be. It's a very good neighborhood.
SSL / TLS: The security level of your website is a ranking factor with search engines. Get the symbol in the address bar, an icon of security and trust.
Learn the benefits of SSL and how it could impact your business.
Monthly analytics reports:

Get useful insights into your traffic.
ADD ON


Content Updates:
$29
per
month
Seasonal Promotions / Coupons: We'll publish weekly updates to a Seasonal Promotions or Coupons page.
ADD ON


Custom Blog:
$399
one
time
Stepping your search engine optimization up to the next level requires regularly publishing unique and high-quality content. There is no easier way to begin doing this than by starting a blog.
Fast, modern platform: We use ghost.io – a fast and sleek platform built for blogging. Everything you need, nothing you don't.
Matching design:

You'll get a custom designed blog that fits seamlessly into your website.

Self-publishing:

Log in anytime and publish till your heart's content.

Migration:

Do you have an existing blog? No problem. We'll migrate your existing content over to our platform. You won't lose a step — in fact, you'll be taking a step up.

Sample: To see one of our blogs in action, check out ours.
ADD ON


Online Concierge:
$39
per
month
Accept online payments:

Allow your customers to pay their invoices right from your website.

Scheduling:

Enable visitors to your website to schedule for service right on the spot.

Appointment reminders:

Reduce no-shows with automated email or text-message reminders.

Paperless customer management:

Create accounts for your existing customers where they can login and schedule appointments, view their service records, and pay their invoices — anytime, all right on your website.

30 day test drive:

Run this feature through its paces for a full 30 day no-obligation trial period.
"James really knows his stuff! He did an excellent job for my business."
—Larry Wernett